3ie's response to the COVID-19 pandemic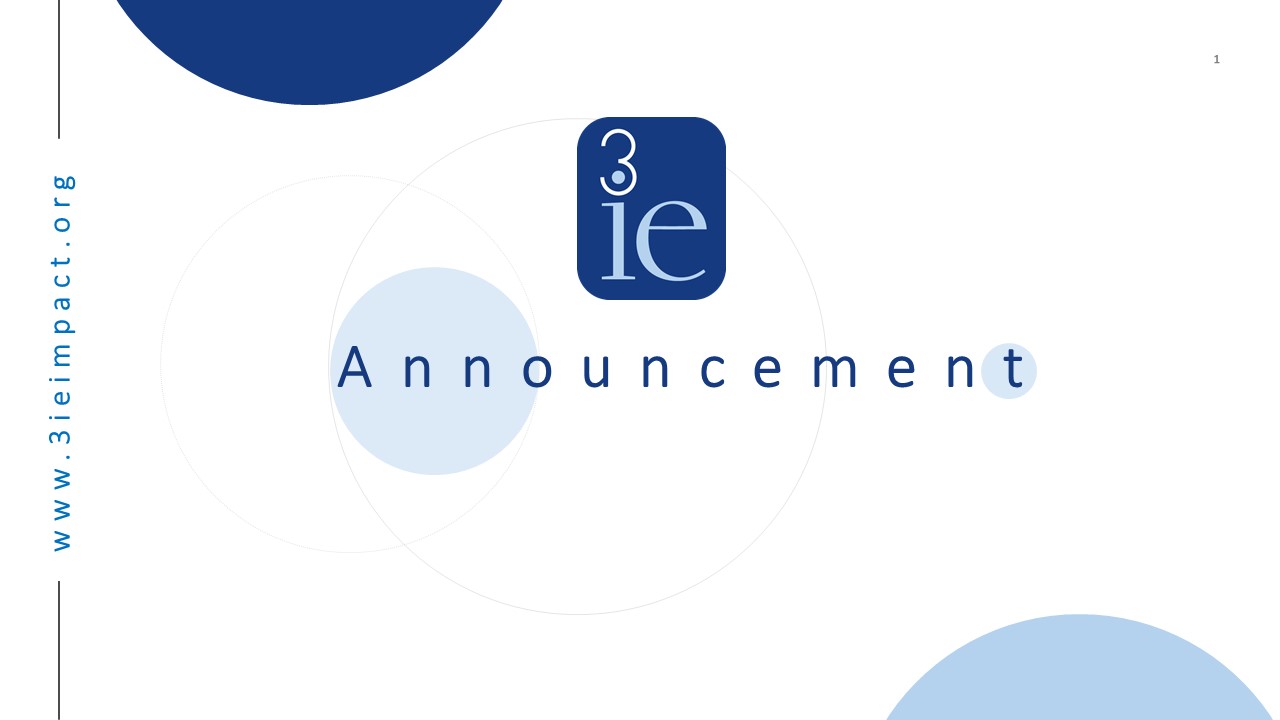 We, at the International Initiative for Impact Evaluation (3ie), are continuously monitoring information about the spread of the new coronavirus that causes COVID-19. We are mindful of the myriad impacts this pandemic is having on people's lives, directly and indirectly, across the world. As everyone, we try to adapt to the rapidly evolving situation, and we are sharing here how we do that.
Health and safety first: adapting how we work
Starting 12 March , we moved to working-from-home arrangements in all our offices – in New Delhi, London, and Washington, DC. We have made provisions to ensure our staff have access to the necessary equipment and resources, and we have set up the processes they need to continue being productive to the best of their ability.
We have halted all domestic and international travel for staff and are advising our grantees to do the same. This is in line with similar steps taken by many international organisations to limit exposure and the spread of the virus. We are aware that in addition to caring for their physical health, we need to be conscious of the mental well-being of our staff as well. Our senior management is committed to communicating with our staff constantly and continuously and to supporting them as best we can.
We have cancelled our public conference, delayed our in-person members' conference, and are exploring virtual options for our Board of Commissioners meeting. We are consulting our colleagues in the broader development community to seek cooperation and adopt solutions that put the health of our stakeholders and their safety first.
We are in touch with our grantees, members and partners to gauge how the COVID-19 epidemic is affecting their important work, and what we can do to help. If you are a 3ie-grantee, please let us know how this is affecting your ability to execute grant agreements, and what 3ie can do. If you are a partner or a member, please let us know if there is something our membership team could help organize, such as discussion groups, peer-to peer learning, that would help you perform your work under the current difficult conditions.
We are grateful to funders who have reached out to offer flexibility and are open to adapting to the circumstances. We encourage all funders and partners to continue to support each other with this kind of flexibility in the face of so much uncertainty.
Evidence matters – now more than ever.
We are keenly aware that evidence matters – now more than ever. We are committed to generating and encouraging the use of evidence that can improve people's lives or protect them when facing adverse events. We are exploring alternative, technology-based solutions to engage with decision makers. We are starting to develop online tutorials and training sessions to strengthen evaluation, research skills and evidence use. We are also looking back at evidence from past studies that might inform current discussions, such as what works to get people to adopt and maintain desirable behaviours (e.g. washing their hands, using latrines, and not stock-piling). Our #2020Hindsight campaign will continue to share evidence about what works in the health and other sectors and we encourage our partners to do the same.
We also urge current and future partners and funders to support us in identifying opportunities to adapt ongoing research supported by 3ie to respond to the situation. This can entail adding survey rounds to existing surveys, adapting sample sizes, adapting questionnaires, or adding or adapting other evaluation tools and methods to ensure we gather evidence relevant in the current situation.
We also encourage funders and development partners to support new evidence programs by 3ie and other partners that can help mitigate the effects of the pandemic, particularly in low-and middle-income countries. 3ie has run successful evidence programmes on topics such as immunisation, humanitarian assistance, and governance.
Call for action
3ie is committed to working together with multilateral organisations, national governments, and research organisations to promote the use of the best evidence available that helps global efforts to mitigate the effects of the pandemic. We at 3ie believe that our common future is determined by how we work together. We offer:
Contributing to new evidence programs that can help mitigate the effects of the pandemic in low-and middle-income countries
Sharing relevant behavioural and other insights through our #2020Hindsight campaign
Sharing expertise in evidence synthesis
Giving tutorials on how to use our newly launched development evidence portal.
If you have any suggestions, please write to info@3ieimpact.org.
Thank you for your commitment to the global public good of evidence.
Stay well!
Marie Gaarder
Executive Director, 3ie