Impacts of aquaculture on livelihoods, nutrition and women's empowerment in Bangladesh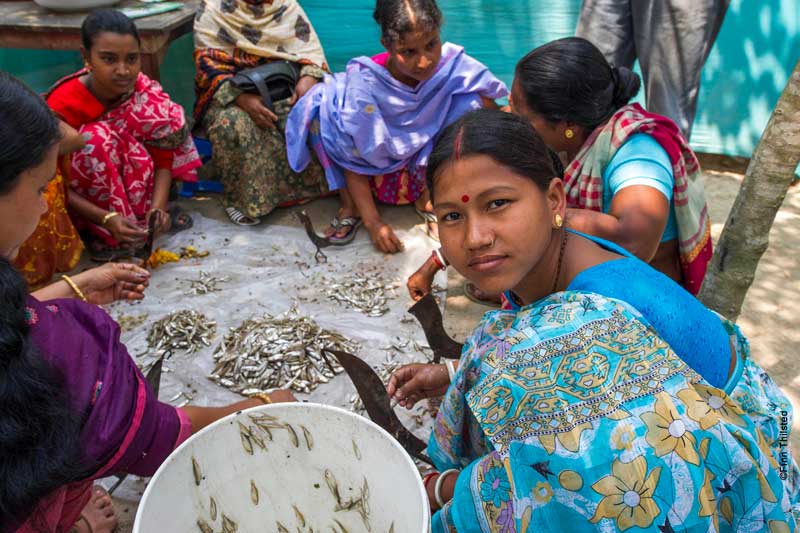 The demand for fish, which is a primary animal-based source of food for around one billion people, is rising globally. The bulk of aquaculture production still originates from small-scale farming systems and practices in developing countries, such as Bangladesh.
Bangladesh's farmed fish market has increased by 25 times and the number of actors involved has tripled in recent decades. This dramatic growth contributes to considerable challenges, such as inequitable access to inputs, limited role of women farmers in production decisions, and undernutrition, which is a major source of disease burden. To understand the effectiveness of interventions addressing these challenges in Bangladesh, 3ie is evaluating the impacts of WorldFish's aquaculture programme on productivity and income, nutritional diversity and women's empowerment.
Fish consumption and production plays an important role in the lives of people in Bangladesh. It is a rich source of protein and is the primary livelihood for nearly 18 million people, of which approximately 1.4 million are women. WorldFish's programme will work with women to increase their knowledge and access to aquaculture technologies, management practices and business-oriented approaches to increase their fish productivity and diversity. They will be improving smallholder farmer's access to quality services and inputs, and improving market linkages by strengthening small-scale farmer organisations, including women's groups. They will increase the knowledge, skills and awareness among household members of the importance of increased fish consumption for more diversified and better nutrition.
3ie will support a mixed-methods, theory-based impact evaluation, as well as commission formative and process evaluations to answer key questions related to the context and programme implementation. We will also conduct a systematic review to examine the state of evidence on aquaculture in low- and middle-income countries, with a special focus on issues related to gender in aquaculture value chains.
3ie has received a grant for this project from the Bill & Melinda Gates Foundation.
Blog
A lot of traditional thinking in development says that the private sector can be a powerful force for tackling problems associated with poverty, but it can't do everything. For example, private-sector actors, with their financial motivations, have incentives to work with poor farmers on value chains. But, the thinking often goes, they can't be counted on to deliver other outcomes we want to see, like empowering women, because they do not perceive any gain from doing so.
Related content
There are no supported studies.
There are no impact evaluations
There are no systematic reviews
There are no evidence gap maps
There are no replication studies
There is no related content.