3ie Living Evidence Gap Map: New food systems evaluations focus on the big picture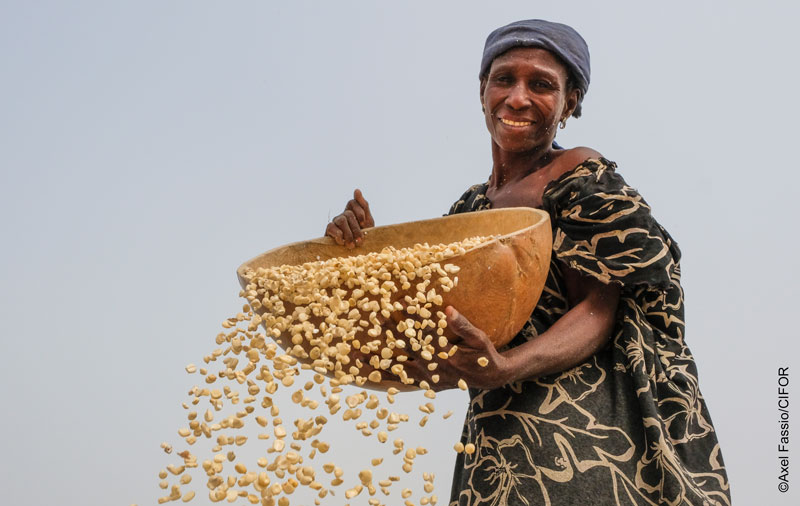 Food systems transformation is a global problem, and increasingly evaluations of food systems interventions are considering national and transnational solutions. The world's food system is under threat from the "three Cs" – COVID, climate, and conflict. As the Food and Agriculture Organization notes,  the war in Ukraine brought these threats into sharp focus in 2022, pushing the already high global food prices even higher. To mitigate the effects of, and eventually recover from, these shocks, we need to know what interventions are effective at improving food security and nutrition, who they work for, and what they cost. In our newest update to our living Evidence Gap Map we've added 72 new studies, some of which show positive effects of nation-wide plans to shift land ownership policies.
Through the living EGM and our regular update briefs, we provide researchers and decision-makers with the most up to date evidence on food systems and nutrition, thanks to support from BMZ through the GIZ "Knowledge for Nutrition" (K4N) program. In the map, we present all impact evaluations and systematic reviews of interventions in low- and middle-income countries that function within food systems and measure outcomes related to food security and nutrition. We continuously monitor knowledge gaps in the evidence base to determine if the research focus is changing and whether identified evidence gaps have been addressed. New studies are made available through the interactive version of the EGM. Summaries of the first three updates are available here, here, and here. (Or if you prefer, those updates are discussed in blog posts here, here, and here)
Shift towards national evaluations
In this latest update, we noticed a remarkable shift towards national and transnational evaluations. In the original map, 9 per cent of studies evaluated interventions at the national or transnational scale. In this update, 24 per cent of the interventions evaluated functioned at this scale. The main driver of this change is a curious shift in the evidence base. We identified four evaluations of China's national program in the mid-2000s through the 2010s to shift land rights from villages to individuals. Another study from China evaluated the effect of the Chinese government's project for constructing high-standard basic farmland which was implemented alongside these land reforms. A related evaluation specifically considered the effects of different approaches for applying and implementing the farmland transfer scheme at the village level, but is not considered one of these national level evaluations. These studies generally used propensity score matching techniques and found that the initiatives had positive outcomes on measures such as agricultural efficiency, income, and farmer welfare. Three of these studies received funding from the National Natural Science Foundation of China, three received funding from the National Social Science Foundation of China, and one did not report funding (some studies had more than one funding source).
Other national evaluations looked at school feeding programs in Nigeria and Thailand. One evaluation considered India's law on women's right to inherit ancestral property. And a final study looked at Vietnam's support of systems of rice intensification. The two transnational studies considered an exchange of seeds between seed banks in east Africa and Russia's trade restrictions on agricultural products.
The living EGM – recent additions
We added 72 studies to the map, taking the total to 2267.
Most new studies focused on the food supply chain (n = 50), specifically the production system (n = 46). There were 12 new food environment studies and 11 consumer behaviour studies.
There has been a shift in most common outcomes to agricultural (n = 26), economic (n = 22), and anthropometric (n = 13). In the original EGM the most common outcomes were anthropometric, and in the last three updates diet quality and adequacy have been the most common.
More studies evaluate national and transnational programs, with an increase from 9 per cent in the original map to 24 per cent in the current update.
Four studies address previously identified gaps, three studies on women's empowerment intervention and outcome, and one study on climate impact outcome.
There was a large increase in quasi-experimental designs from 20 per cent in original to 64 per cent in this update.
Table 1: Studies added to the EGM (update #4)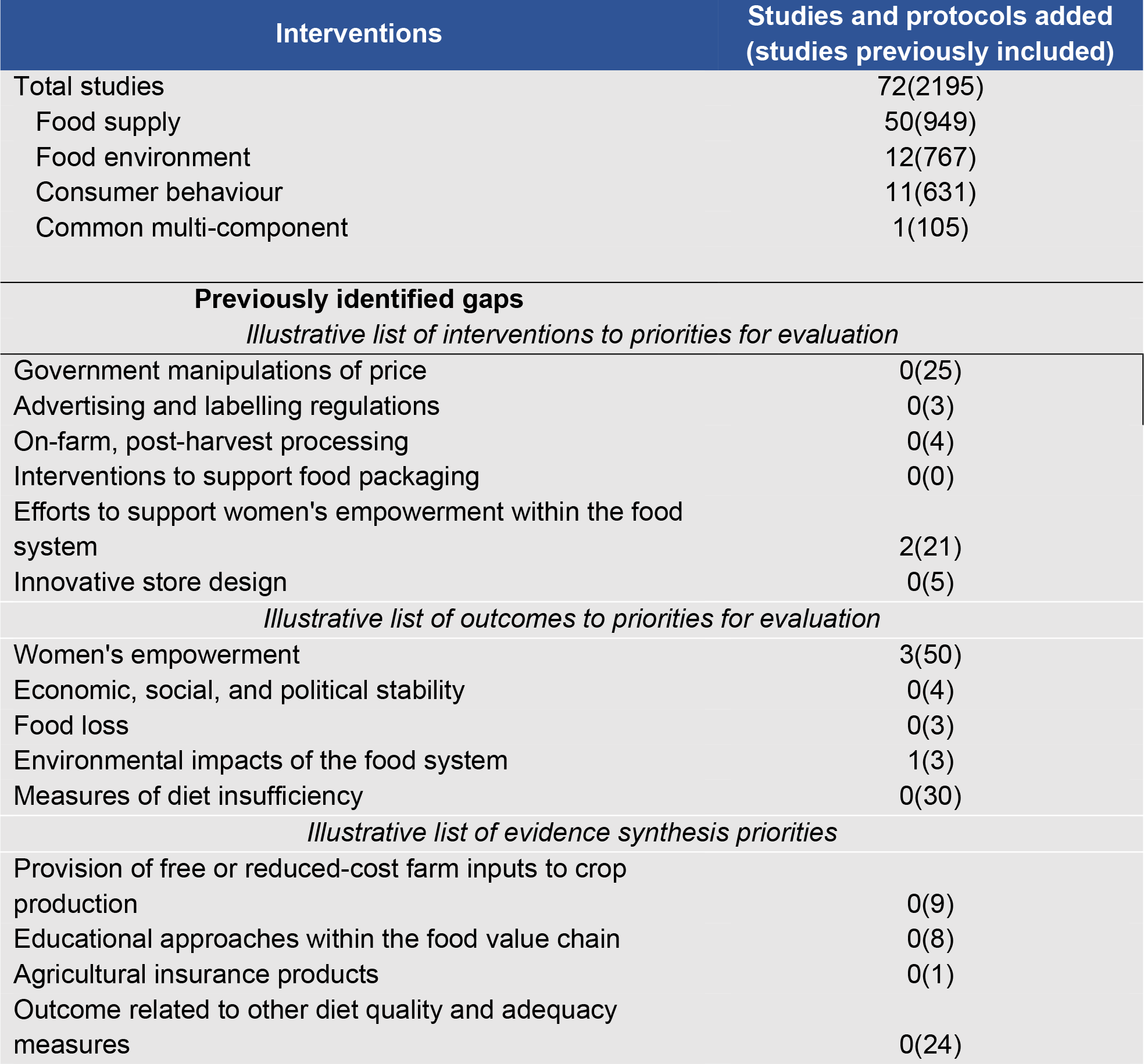 Further information on additions to the Food Systems and Nutrition EGM can be found here. If you are interested, you can find other publications related to the map here and the map itself here.