The HIV/AIDS treatment cascade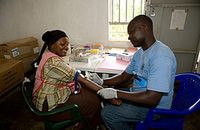 One of the reasons we appreciate international days is that they prompt us to pause and reflect on what we've been doing in the past year, as well as think about what the next year will bring.  On this International AIDS Day, our first reflection is realising how much we have grown our HIV/AIDS programming in 3ie in 2013.
This time last year, we were about to launch two new evidence programmes for HIV prevention. One funded six formative research studies on HIV self-testing, the other funded seven impact evaluations of innovations in demand creation for voluntary medical male circumcision (VMMC).  Both of these programmes are now well underway.
This year we can again mark this important anniversary by announcing a new HIV/AIDS evidence programme. Our new programme is designed to produce evidence on effective interventions along the HIV/AIDS treatment cascade.  The thinking behind this new programme was summed up nicely by a speaker at 3ie's recent Measuring Results conference in Delhi, India, who posited that we don't need new ideas.
In line with her point, our new evidence programme is very different from 3ie's self-testing and VMMC programmes.  Self-tests are a new technology for HIV prevention and treatment.  Interventions incorporating them involve innovation by design. Medical male circumcision is not a new technology, but VMMC–as an HIV prevention strategy, has hit a road block.  High uptake in the beginning has given over to flagging demand in the long run. This means that reductions in HIV prevalence are not coming close to national targets, as 3ie's scoping report discusses. We need innovation in this case to reinvigorate uptake of this quick, simple, cost-effective means of reducing HIV transmission.
But along the HIV/AIDS treatment cascade, many ideas are currently being implemented that have never been tested. The Bill & Melinda Gates Foundation has responded by awarding two grants that aim to identify, test, and catalogue the good ideas that we've already had for addressing the treatment cascade. One is a best practices research project being implemented by Pangaea Global AIDS Foundation. The other is 3ie's new HIV/AIDS treatment cascade evidence programme.*
The World Health Organization depicts the treatment cascade and explains the challenges along the cascade in its 2013 update.  We are focusing on three of the main challenges they identified: linkage to care, loss to follow up and adherence. We want to find the best ways to get folks treated, have them continue their treatment, and make sure they take their treatment correctly. For each of those three challenges, the new 3ie evidence programme asks three questions:  (1) what are we already doing; (2) of those interventions, which work the best; and (3) for those that work the best, how can we replicate them most effectively in other HIV/AIDS programmes?
To answer the first question, 3ie will conduct a variety of stocktaking activities, and we'll be reaching out to many of you to help us. We need to disentangle the activities within the large HIV/AIDS projects in different countries to find the interventions targeted specifically at the three challenges.  Once we've found them, we'll award grants to conduct impact evaluations of those interventions so that we can learn which ones work the best. By best we don't just mean good results, we also mean cost-effective. The studies we fund will need to measure both.
To turn that evidence into practice, we also need to understand how the good interventions are implemented and what implementation factors contribute to their success. Development researchers call this implementation science.  Evaluators call this process evaluation. Either way, the objective is making good ideas work, which is what our 3ie colleague, Heather Lanthorn, talks about in her recent blog.
The studies we fund under this newest 3ie evidence programme will also need to examine implementation. To assist our grantees, we will produce a concept paper in the next few months on integrating impact evaluation with implementation science (and we are looking for a good implementation science co-author in case any readers are interested).