How do electricity access interventions affect social outcomes? A forthcoming systematic review.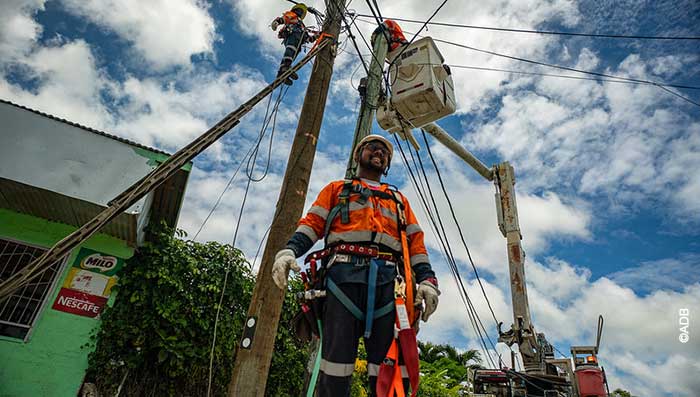 In 2017, around 89 per cent of the global population, predominantly based in high-income countries, were fortunate enough to have access to a reliable source of electricity and were able to go about their personal and professional lives without the risk of a power cut, let alone the prospect of having no electricity access at all.
Electricity access is key for development but we're far from universal access.
Access to high-quality electricity when it is needed is considered to be a foundation for modern society. Better access is expected to provide a range of benefits, including more and better public services, improved health and educational outcomes, and more productive economies.
These benefits have been increasingly acknowledged by the development sector. In 2015, electricity provision was internationally recognised as a development objective under Sustainable Development Goal 7 - 'Ensure access to affordable, reliable, sustainable and modern energy for all'.
Despite substantial progress made in increasing access between 2000 and 2017, an estimated 840 million people currently live without electricity. The data shows low-income countries and rural areas have the most acute access issues, and some evidence also highlights access issues are more likely to affect women in more adverse ways than men.
The need for increased investment in electrification is clear, but the evidence available to guide programming and implementation is limited.
Between 2013-14 and 2015-16, total investment in high-impact countries* increased by USD 10.8 billion to an average of USD 30.2 billion per year.  But increased investment alone is not sufficient.
Those responsible for the funding, design and implementation of electricity access programmes need timely access to evidence to support decision-making. In particular, evidence is needed to better understand the causal effects of these interventions on a range of different development outcomes, as well as a range of intermediate outcomes, such as increased use of electricity and electronic appliances, improved market access, or changes to business ownership rates. Perhaps just as important, is the need to understand how and why any effects came about in a given context in the first place.
This is especially true given the multitude of intervention types that are available. These include providing communities new or higher quality connections to the grid, developing off-grid solutions such as micro-grids and market reforms to improve electricity market efficiency. A range of demand-side interventions also exist that seek to make electricity access more affordable or less burdensome, and to make potential consumers more aware of electricity market information like prices. The opportunity to combine multiple interventions across a range of different settings makes understanding 'what works' in electricity provision in detail of paramount importance.
3ie is leading an updated systematic review for the Asian Development Bank as part of its energy sector evaluation
A previous systematic review (Appendix J) of electricity access interventions completed by the World Bank in 2014 found that electricity access improved child education outcomes and household incomes, but provided limited evidence on health and economic outcomes, indicating the need for further evidence.
The Asian Development Bank (ADB) commissioned 3ie to undertake an updated systematic review of the effect of providing new and/or improved electricity access on development outcomes.
This review will focus on rigorous randomised and quasi-experimental (as-if random) impact evaluations. It will bring our understanding of the literature up-to-date, consider additional evidence on process, implementation and context, and where possible, consider the relative costs of one intervention over another in achieving certain outcomes.
The bank is keen to make use of the review's findings by comparing them to the results of its own energy sector programming in an evaluation of its sector activities. This evaluation will also inform the bank's investment strategy going forwards – a clear example of how systematic reviews can be used to inform organisational policy and strategy.
To validate our literature search, we would like to draw on the 'crowd'
We have already completed a comprehensive search of the literature. However, we are keen to supplement the studies we have found by asking relevant policy makers, development programmers and researchers to nominate studies, especially those which are not published, that are relevant for this review. In doing so, we can reduce the risk of excluding relevant evidence from the review.
If you are aware of an impact evaluation that assesses development outcomes as a result of an electricity access programme, we would like to hear from you.

We hope to publish out results by the middle of 2020. If you know of a study that might be relevant to this review, or have any thoughts or views to share on the subject, please contact Nick Moore (nmoore@3ieimpact.org).
*'High impact countries' is a classification developed by the World Bank and International Energy Agency to denote countries with "the most potential to make rapid progress towards the goal of universal electricity access".