World AIDS Day 2017
World AIDS Day (1 December) commemorates the significant strides made in scientific advances, programmatic achievements, and advocacy successes that are improving the lives of those living with HIV and AIDS. World AIDS Day also serves to reinvigorate those who are committed to working tirelessly to achieve an AIDS-free generation. This year's World AIDS Day campaign focuses on the right to health.
Evidence from 3ie-funded studies cited in WHO guidelines
On World AIDS Day, 3ie is pleased to announce that WHO's new, revised guidelines on HIV self-testing cite high-quality evidence from 3ie-funded research. Of the five impact evaluations used to inform the guidelines, two evaluations of pilot interventions from Kenya were funded by 3ie grants.
These are the studies that informed WHO guidelines:
Expert panel approves first HIV Self-Testing product
UNITAID and the Global Fund expert panel approved the first HIV self-testing product on 2 March 2017. This will enable countries to operationalise the WHO guidelines and encourage more people to get tested. The WHO had released new supplemental guidelines on HIV self-testing on 29 November 2016 in which seven 3ie studies and papers by 3ie staff and grantees were referenced. Inclusion of 3ie-funded evidence in these supplementary guidelines are an example of the policy relevance of 3ie funded studies and use in influential global normative guidance.
3ie thematic windows on HIV prevention
3ie is funding several studies on various aspects of HIV and AIDS prevention through three different thematic windows. These include HIV Self-Testing, Voluntary Medical Male Circumcision and Integration of HIV Services.
HIV Self-Testing Thematic Window (TW2)
3ie has funded pilot interventions in Kenya, Uganda and Zambia. Some of these studies have targeted key populations, including sex workers.. more
Voluntary Medical Male Circumcision Thematic Window (TW3)
In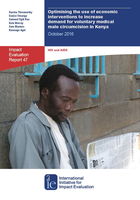 2013, 3ie awarded seven grants to fund pilot interventions and their impact evaluations to generate robust evidence on what works for increasing the demand for voluntary medical male circumcision for HIV prevention in eastern and southern Africa. This was the first time 3ie funded pilot interventions alongside impact evaluations. It was also the first time that findings from a thematic window were compiled and featured in a peer-reviewed journal supplement. Results from all seven studies are highlighted in the supplement for the October 1, 2016 issue of the Journal of AIDS Acquired Immune Deficiency Syndromes.
Click here to learn more about the window.
Access the final reports on VMMC in 3ie's Impact Evaluation Report series. 
I

ntegrated HIV services Thematic Window (TW7)
3ie has funded 5 pilot interventions and their impact evaluations on integrating HIV services with other health services in 3 Sub-Saharan African countries, including on integration of community maternal, newborn and child health services with prevention of mother-to-child HIV transmission, using community health workers to enhance retention in care, and improving adherence to antiretroviral therapy in Tanzania.. more
Videos
Innovating to cut HIV
This video explores how impact evaluations can test innovative ideas to increase demand generation for voluntary medical male circumcision.