Developing evaluation capacity: a conversation with the head of Global Evaluation Initiative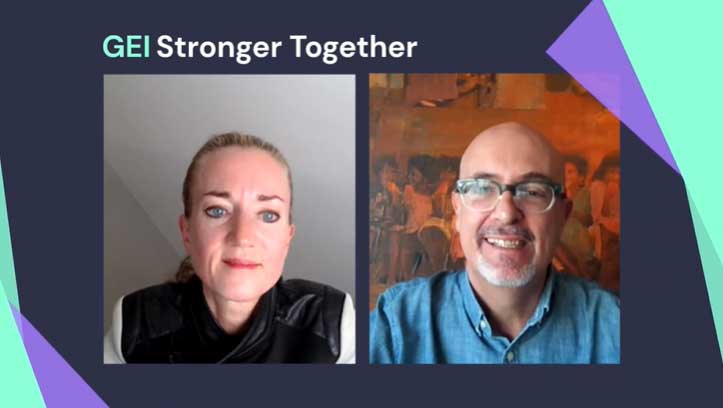 It seems straightforward: producing and using high-quality development evidence requires evaluators and policymakers to have the capacity to do so. However, getting there is not always so simple. When funding decisions are made and evaluation programs assembled, capacity strengthening efforts often take a back seat to other priorities.
A broad and diverse coalition of governments, international, national and local development organizations, and M&E experts, the Global Evaluation Initiative (GEI) launched last year with a mandate to change this status quo—and 3ie is one of the initiative's partners in implementing its capacity development agenda. The GEI aims to support country-level M&E frameworks, build sustainable evaluation capacity, reduce fragmentation in capacity development services, and produce global public goods. Country ownership of evaluation frameworks is a key part of GEI's vision.
3ie Executive Director Marie Gaarder recently joined GEI Program Manager Dugan Fraser on an episode of the initiative's Stronger Together podcast to discuss ways to develop evaluation capacity around the world.
"If we want to influence policy, [an evaluation] needs to be relevant, it needs to be good-quality and contextualized, it needs to be demanded, it needs to be understood, its insights appreciated, it needs to be used, and it needs to not be misused," Gaarder said. "And so, you need to really work on building the capacity all through this chain."
Even in the pandemic, 3ie has been busy with training and capacity-strengthening activities for that whole range of evidence producers and users, Gaarder said. She cited training events with the African Population and Health Research Center, the University of Zambia, and Columbia's National Planning Department. Still, those efforts are only part of the battle, Gaarder said.
Gaarder said training is probably the easy part "Linking the people, who have been trained, with hands-on real work and real-world experience is harder… For a training to really stick, the trainees must be able to get experience doing the work," she added.
The sticking point often arrives in discussions of budgets and timelines, according to her.
"We find it hard to find funding for the types of studies which incorporate a teaching component," Gaarder said. "Funders offer us this impossible task, right? They want short timelines, they often put insufficient resources for the task, and they do want [evaluation capacity development] built in, and they want it at no risk."
Although the COVID-19 pandemic has created countless challenges, it has actually made some capacity-strengthening efforts easier because of how it normalized the use of virtual communication tools, Gaarder said.
"The virtual world has allowed us to bring capacity development home to people in a very different way," she said.
Gaarder lauded the GEI's mission to serve a coordinating role for the different organizations around the world working on building evaluation capacity. GEI can help make sure efforts are not duplicated and each organization's unique skillsets are most efficiently deployed.
"It's really great to see much more collaboration between international partners, working together to share resources or contribute to common goals," Gaarder said. "This goes a long way towards things like harmonizing standards."
As an example, she mentioned the costing community of practice, in which 3ie is working on developing guidelines and resources for incorporating cost evidence into economic evaluations. That collaboration also includes J-PAL, IPA, CEGA, and DIME.
In closing, Fraser asked Gaarder about her vision of success for the GEI.
"The GEI will be successful if we see a significant increase in the depth of use of evidence to inform policy and programs in participating countries, and an increasing amount of quality evaluations being demanded and led locally," Gaarder said.
For more on developing evaluation capacity, the full video of Gaarder's and Fraser's discussion is available here.