The four essentials of supporting artisans' group enterprises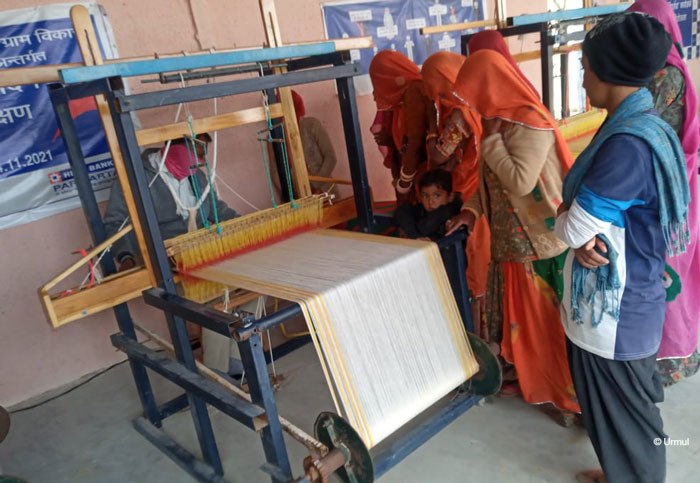 This week we mark International Women's Day by spotlighting the work and contributions of women leaders from our Swashakt program who have established group-based collectives in rural India. In the first part of this two-blog series, we shared insights on collectivization and empowerment of women from our conversation.
In this blog we draw from the experiences of the two leaders as they navigated the journey of setting up and supporting artisans' collective enterprises. Both these leaders, Vijaya Switha Grandhi and Prerna Agarwal, and their organizations, Chitrika Foundation and Urmul Trust, respectively, have been working for several years to support artisans, particularly women artisans, to transform from wage workers to entrepreneurs and leaders. Here are the four key aspects that they emphasize:
Building bridges comes first
Switha and Prerna both entered the communities they work in at a time when crafts were struggling, and other support programs and organizations already existed. They realized that more than solutions, staying on and building trust were important.
There was a lot of mistrust because a lot of people would come and leave in a few months,'' Prerna says, "It became very clear to me that one has to stay back no matter how difficult things get, one has to stay and struggle through.''
For Switha, entering spaces where there were established cooperatives, master weavers and a few NGOs was quite a challenge. For the first seven years, the organization could persuade only 50 weavers before the numbers began to grow.
"After my first field visit, I ran back to Hyderabad on an unreserved train ticket because I had no answers to the questions the weavers were asking. It took me almost 10 months to zero in on a village and convince 10 weavers,'' Switha says, "and I did not have money! It was very difficult, but there are also a lot of interesting people in the community who just take that leap of faith. Without those 10. I would not have started.''
Identifying and resolving roadblocks to enterprise success
Apart from working through these entry barriers, both worked to identify and overcome deeper challenges.
''Every artisan cluster I've been to, the first time you talk, to them their problem is marketing. When I came here first, I thought, marketing is easy. Such nice, beautiful products. We'll do this this, this and this and it'll be done," Prerna said. She had worked in marketing and advertising before she joined Urmul so finding markets did not appear to be a major stumbling block. However, she said, she later realized that the larger challenge was organizational systems.
"Here the problem was the backend. It was so unorganized and so weak; even now we constantly work on strengthening the backend first. Be it the processes, be it the time in which the product is getting made, the quality with which it is getting made, how we are interacting with the customer, and so on. These backend factors are the ones which affect the marketing or the sales… I've learned that if any cluster (of artisans) is saying that (marketing) is the problem, (we need to) go deeper."
Switha echoes this, saying constant professional support is crucial in the initial stages of setting up rural women's collective enterprises. Making a pitch for mentorship and handholding even as the producer companies grow, she highlights that it is extremely important to make technical skills and professional support available when the enterprise may need it.
Another challenge that most small organizations encounter, especially in the inception stages, is mobilizing funds. Switha shares that, more than grants, generating working capital is a major challenge. During the first seven years, Switha herself raised a large part of the initial working capital by consulting for other organizations in the crafts sector. She set up production management and inventory management systems, using the hard-earned working capital to document what was necessary for the weaving value chain.
"Then from 2013 to 2017, we implemented our learning and scaled up, putting in place production and design systems. From yarn to the end product, we set up all necessary systems including the most important enterprise resource planning systems and deepened our marketing channels,'' Switha says, highlighting that the enterprise resource planning systems now help them ensure that no looms are unused.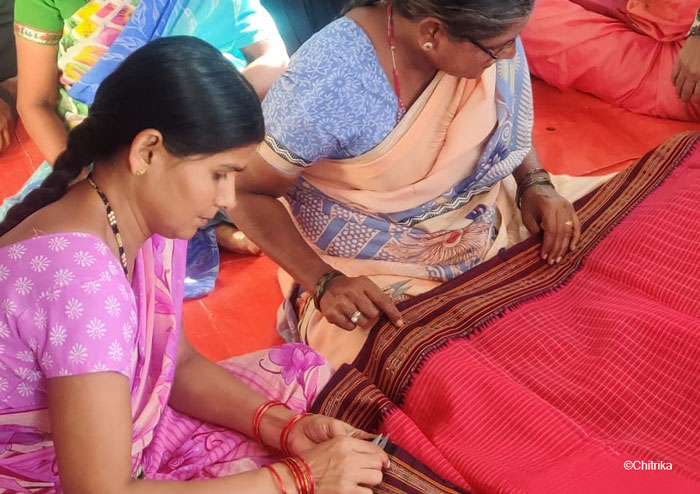 Weavers engaged in post-loom finishing
Courage and collectivization
Both Switha and Prerna mention collectivization as a critical factor in weathering the initial years and current day to day challenges.
"Those weavers were brave to withstand the system because the initial bonuses and benefits took 4-5 years to actually show results,'' Switha says, speaking of how Chitrika's strict product quality and production efficiency requirements were challenging for partner weavers. She shares how Chitrika introduced stricter measurement norms, providing thin handmade ropes with knots to help standardize measurement. According to her, the weavers could never have achieved business efficiency without collectivization.
''In both the districts we work in, East Godavari and Srikakulam, the producer company is the largest employer and source of income, so if we want change at ecosystem level, do not think of any other way than collectivization,'' she adds.
"Singing songs (together) is a very important aspect," according to Prerna. For Urmul, in addition to focusing on skills and profits, emotional bonding among the women is crucial for resilient artisans' groups and their group-based enterprise.
Keeping an eye on profit
Apart from collectivization, systems, professional and technical skills, both Prerna and Switha stressed on financial sustainability and shedding the stigma around profit-making.
"Costing our product was a major challenge,'' Prerna said, sharing that Urmul struggled with setting the right price, so that the collectives could build a corpus of funds for their operations. To help course correct, Prerna has emphasized learning about unit economics and costing and pricing at Urmul.
For Switha, being prepared to take tough decisions is also critical, "If we are making losses anywhere, we close the producer group. We have to be dispassionate about it since financial sustainability is very important for us."
Prerna says that Urmul, as an organization, believes in teaching women to see value in their products and their work. Urmul encourages the women artisans to be confident while selling their products, and not give in to market intimidation. "The women should know that profit-making isn't wrong. An enterprise or collective can't sustain without profits."
Financial sustainability concerns, especially when orders declined during the pandemic, have nudged both organizations to move away from mainly business-to-business models to building business-to-customer linkages through their own retail portals.
To read more about what the women of Swashakt have been achieving, visit the Medium site.