Swashakt: Women leaders on collective entrepreneurship and empowerment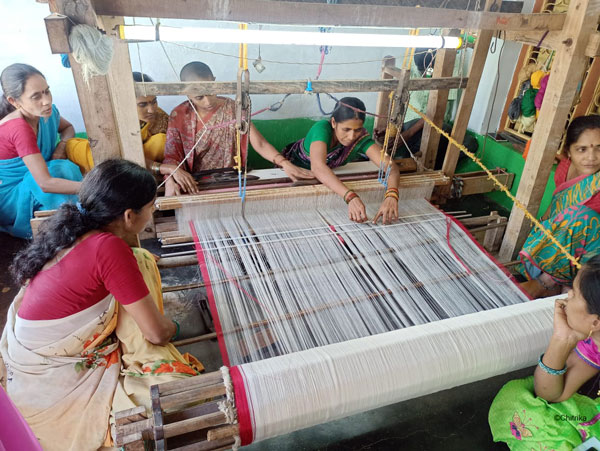 This week we mark International Women's Day by spotlighting the work and contributions of women leaders from our Swashakt program who have established group-based collectives in rural India. 
What does the journey of promoting non-farm livelihoods in rural India and empowering women in the process look like in practice? Our conversation with two women leaders answers this question and shines light on key learnings from lived experiences. Vijaya Switha Grandhi and Prerna Agarwal have been working with women weavers and artisans through collectivization, entrepreneurship, and capacity building for several years. We spoke to them about their understanding of these concepts and their individual journeys. In this blog, the first of two parts, we share what the conversation revealed about women's leadership, empowerment, and the need for collectivization.
Switha is the founder and CEO of Chitrika Foundation, an organization that has been setting up and strengthening producer enterprises owned and managed by women weavers in Andhra Pradesh and Telangana. Prerna is the Lead, Programmes at Urmul Rural Health Research and Development Trust and CEO of the group's collective crafts brand Urmul Desert Crafts. Urmul Trust an organization that works with collectives of women artisans in remote rural Rajasthan and, like Chitrika, supports them to leverage traditional crafts for their livelihood.
3ie, with support from Bill & Melinda Gates Foundation, is funding Urmul Trust and Chitrika Foundation as part of 3ie's Swashakt Program. The program, launched in 2020, supports nine organizations across 10 states of India supporting women's enterprises in farm and non-farm sectors. Urmul and Chitrika are currently implementing projects to enhance viability, scalability, and returns of women's collective rural enterprises in Rajasthan, and Andhra Pradesh and Telangana, respectively. 
Barriers to overcome
Before Switha founded Chitrika in 2005, she, along with classmates from the Institute of Rural Management, Anand explored a lot of craft clusters. "Initially, it was just the beauty of craft that interested me. But soon after registering Chitrika, I realized there are a lot of intangibles beyond design when you work in the crafts sector."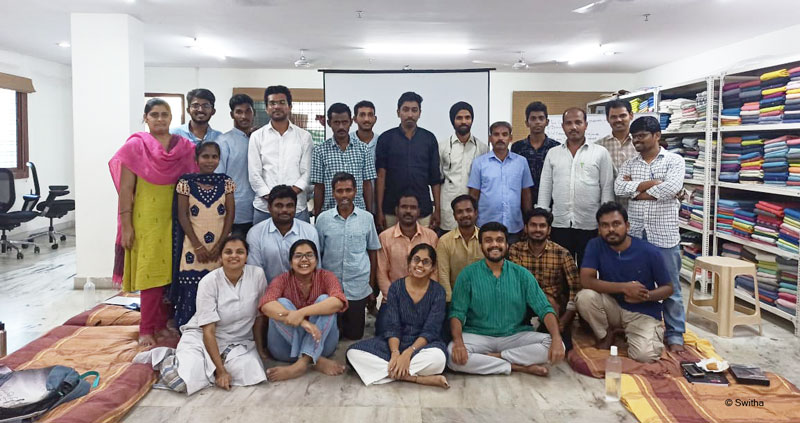 Vijaya Switha Grandhi (bottom left) with team members from Chitrika
When she started fieldwork for Chitrika in Ponduru in Andhra Pradesh, Switha had a tough time convincing the rural community to work with her. Apprehensive about their prospects, the weavers asked questions she had no immediate answers to: "Will you offer better wages? Will you guarantee sales?" and so on. It took ten months before she could persuade a few of them.
Prerna worked in advertising and marketing before realizing that her passions lay in the social sector. An old friend introduced her to Urmul's crafts program just as Prerna was thinking of working with women artisans who knit. Stressing that monetary resources are not enough to get work done in villages, Prerna underscores the need to establish trust before rural communities become receptive. "I realized building trust would be my first challenge."
Women's empowerment and the role of collectivization
Women's economic empowerment has been defined in different ways over the years, and there is no single, all-encompassing, universally accepted definition. For Prerna, the ability of a woman to make independent decisions on matters she thinks are critical is an important part of empowerment. 
"If a woman can decide whether or not she wants to study or work or go out of the house for any activity of her choice, she is empowered." Prerna adds that after several years of working in rural Rajasthan she realizes "Every woman has a leash around her neck. For some women, this leash is longer." 
For Switha, empowerment is a two-pronged process. Given that the playing field is not level and patriarchal structures ensure women are at a disadvantage in most spheres of life, the first step, according to her, is to work directly with the women and provide them with all the necessary support, skills, and information.
"The real empowerment will happen when everyone in the family - husband, children - is involved," she says. She adds that this process cannot happen in isolation. The second piece for a woman to be empowered is for her family members to be equally part of the awareness-building process. For Switha, decision-making is inclusive when it is 'peaceful' and all parties come away feeling heard.
On the importance of collectivization, Switha says she doesn't know any other way to bring about change in society. Prerna illustrates a similar point with stories about how collectives have supported women.
Her first anecdote is about a young artisan from Dandkalan village in Rajasthan who left an abusive husband and came back to her own village, where a senior artisan initially housed her.
"All the women from her crafts collective stuck by her and supported her decision, and they eventually went on to file a police complaint against her husband." She highlights how the self-help group movement has provided a medium for coming together, sharing experiences, and building confidence and social capital. As women gained confidence, Prerna notes, other barriers – crafts being associated only with specific caste groups, the idea of working women making families and men uncomfortable – slowly started breaking down.
The other anecdote is about a first-generation artisan with Urmul who faced resistance and feared ostracization from the community when she first joined. Now her granddaughter has become the first girl in her family to go to college. According to Prerna, collectivization has helped birth a transformation in rural communities – women are much more aspirational now and communities less resistant to the notion of women doing non-traditional work.
Their own journey in leading rural enterprises
Prerna and Switha talk about their starkly different experiences as women leaders. For Switha, the ecosystem around her was very supportive. "I come from a family of really strong women. I have also been very lucky to be surrounded by many sensitive men in both my personal and professional lives." This explains Switha's emphasis on the ecosystems for women to be truly empowered.
Prerna, on the other hand, initially faced stiff resistance as a woman in the field. According to her, pre-established patriarchal notions and thought processes act as barriers to accepting a woman in a leadership role.
"It was difficult for male vendors to accept orders from a woman. It was evident even if they didn't say it explicitly because they just wouldn't do the work". One solution was getting a male colleague to accompany her on field visits. Another was taking on tasks predominantly associated with men – picking up cartons, setting up stalls. Eventually, she says, they began to accept her as their leader.
In the second part of the blog, the two women leaders underscore their experiences of overcoming the entry barriers and share their learnings of what gets group-based enterprises up and running and makes them sustainable.
To read more about what the women of Swashakt have been achieving, visit the Medium site.