Food Systems and Nutrition Evidence Gap Map
To address the challenge of malnutrition in all its forms and food insecurity, the International Initiative for Impact Evaluation (3ie), with support from Innovative Methods and Metrics for Agriculture and Nutrition Actions, has developed an evidence gap map (EGM) providing an overview of the literature relating food systems interventions to food security and nutrition outcomes in low- and middle-income countries (L&MICs). This EGM has been commissioned by Germany's Federal Ministry for Economic Cooperation and Development (BMZ) through Deutsche Gesellschaft für Internationale Zusammenarbeit (GIZ) through its "Knowledge for Nutrition" programme. We are now keeping this map regularly updated and publishing quarterly summaries of how the literature has changed and whether identified evidence gaps have been addressed
The Food Systems and Nutrition EGM is our first ever 'living' EGM. With support from BMZ through GIZ's "Knowledge for Nutrition (K4N)" program, we are pleased to convert the EGM into a 'living EGM' and thereby continuously update the map through March 2023. This map will incorporate new work that comes out in the fast-growing field of food systems impact evaluations and that is stimulated by past and upcoming important events such as Nutrition for Growth Summit or UN Biodiversity Conference (COP-15). Read the brief, full report, and notes on the December 2021 and April 2022 updates.
Overview
To address the challenge of malnutrition in all its forms and food insecurity, the International Initiative for Impact Evaluation (3ie), with support from Innovative Methods and Metrics for Agriculture and Nutrition Actions, has developed an evidence gap map (EGM) providing an overview of the literature relating food systems interventions to food security and nutrition outcomes in low- and middle-income countries (L&MICs). This EGM has been commissioned by Germany's Federal Ministry for Economic Cooperation and Development (BMZ) through Deutsche Gesellschaft für Internationale Zusammenarbeit (GIZ). We are now keeping this map regularly updated and publishing quarterly summaries of how the literature has changed and whether identified evidence gaps have been addressed.
Findings
In the original EGM (covering January 2000 – September 2020), evaluations disproportionally considered supplement provision (20%); fortification (16%); direct food provision (11%); and peer support and counselling targeting consumer behaviour (7%). No or few evaluations assessed advertising regulations, food waste education programs, food packaging, governmental price manipulations, and interventions supporting women's decision-making or measured women's empowerment outcomes.
The map has now been updated in two instances—in December 2021 (covering September 2020-June 2021) and in April 2022 (covering July 2021 – January 2022).
With our latest update, we added another 82 studies. The retrieved studies show a shift towards the evaluation of consumer behaviour interventions (n=32), which are now as common as food supply chain (n=32) evaluations and more common than food environment evaluations (n=20). Five completed studies and three protocols address previously identified gaps: women's empowerment (n=4), governmental manipulations of price (n=1), and measures of diet insufficiency (n=4). The reliance on experimental designs continues to be below that of the original EGM but rose to 67 per cent.
In the first update, we added 74 studies to the map. We found continued growth in well-researched areas. Most of the new studies focused on the food supply chain (n=52), specifically the production system (n=42). There were 18 new studies related to consumer behaviour. We added more studies on peer support and counselling (9 new studies added to 130 already included), classes on consumer behaviour (6 new studies added to 245 already included), and fortification (5 new studies added to 285 already included). However, only eight of the new studies addressed previously identified gaps such as women's empowerment (n=3), governmental manipulations of price (n=1), environmental impacts of food systems (n=1), and measures of diet insufficiency (n=1). There was a reduction in the reliance on experimental designs from 80 per cent to 59 per cent.
Studies added to the EGM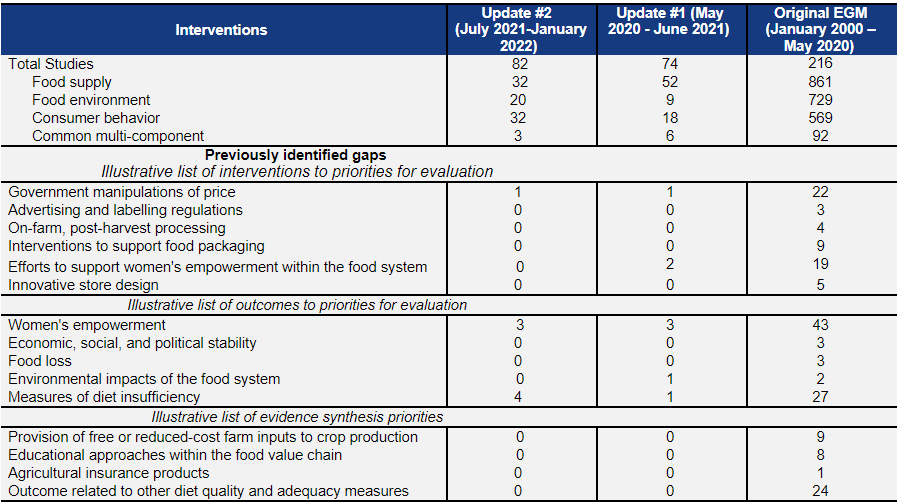 Implications
Although there continues to be a disproportionate focus on evaluating interventions within the food supply chain (especially the production system) and consumer behaviour, we are seeing some evidence gaps filled. Women's empowerment interventions have been added in both the first and second updates. The continuous monitoring of the evidence base will allow for a tracking of these changes over time.
Evidence synthesis work
Extending the use of the living EGM
To fill some of the key gaps identified through the mapping process, 3ie produced two additional synthesis products: a rapid evidence assessment on the impact evaluations of women's empowerment interventions included in the map and a systematic review on the use of fiscal policies to support a healthy diet. These synthesis products were produced in less than half the time of traditional systematic reviews because we were able to leverage the EGM.
Evidence on women's empowerment within the food systems
Findings: There were ten impact evaluations of interventions to support women's empowerment within the Food Systems and Nutrition Evidence Gap Map. Overall, these interventions generally had positive impacts on food security and food affordability and availability. Evidence from qualitative work suggests that women's empowerment interventions best influenced nutritional outcomes when adopting gender-transformative approaches and addressing gender and social norms.
Implications: Policy-makers should consider improving women's social capital so they can better control and decide how to feed their families. Qualitative evidence suggests that multi-component interventions seem to be more sustainable than single-focus interventions, especially when they combine a livelihoods component (asset transfer or financial services) with behavioural change communication. Researchers need to address issues with inconsistent data and reporting, particularly relating to seasonal changes, social norms and time taken between rounds of data collection in order to implement high-quality evaluations. Future studies could further contribute to the evidence base of gender-transformative approaches by carefully considering contextual norms and avoiding stereotyping women into pre-decided roles which may perpetuate social norms.
Evidence on taxes and subsidies to support a healthy diet
Findings: We identified 49 impact evaluations and two systematic reviews through an additional systematic search that extended beyond the Food Systems and Nutrition Evidence Gap Map. Unfortunately, these represented only 24 unique intervention-outcome-population combinations due to the repeated evaluation of the same taxes. We found that taxes on unhealthy foods may decrease the purchases of unhealthy foods, but this effect was driven by a single, high risk of bias study. Impacts on diet, health, and well-being were rarely considered, so conclusions could not be reached. However, we did find evidence that awareness of the health-based justifications for the taxes and the health consequences of consuming such foods may facilitate the impacts of these interventions.
Implications: Tax and subsidy policies aimed at improving diets should incorporate information campaigns on health benefits and health risks associated with certain food and beverage consumption. For tax policies, exposure to health information may amplify the signalling effects of taxes and reduce avoidance behaviours, such as cross-border shopping. Future evaluations of fiscal policies should diversify data sources to better understand the impact on diet and health outcomes. Future research should also use evaluation design strategies that account for confounding and independence from other programs or events that may occur during the implementation period.