WACIE Helpdesk: A new source of support for evidence-informed decision-making in West Africa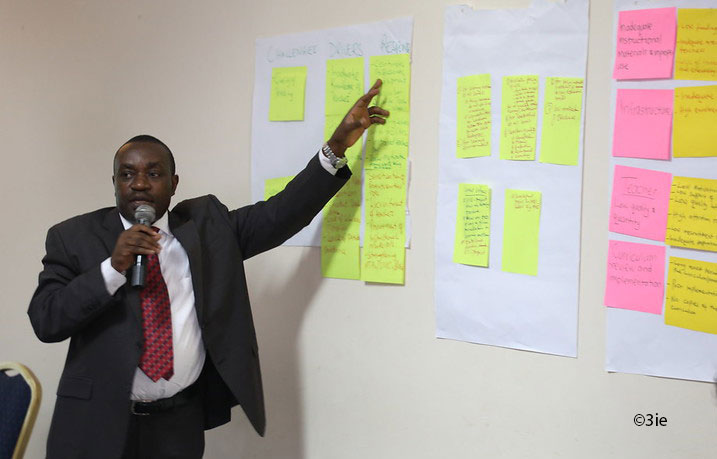 In the countries where the West Africa Capacity-building and Impact Evaluation (WACIE) program works, the gaps in evaluation experience are stark, as the program's scoping study found. Accordingly, the use of evidence in policymaking is limited. But the barrier is capacity, not interest – the same study found that the desire among policymakers and evaluation professionals for support and capacity building was nearly-universal.
The new WACIE Helpdesk aims to respond to this need by offering new sources of support for evidence-informed decision-making. By producing rapid, clear, evidence-based responses to policymakers' questions, the Helpdesk supports regional governments' efforts to improve both the lives of their citizens and the culture of evidence use within their own organizations.
Based at WACIE's Secretariat in Benin, in cooperation with IDinsight's Dakar Office, the Helpdesk works primarily with governments and other policy stakeholders in the countries of the West African Monetary and Economic Union: Benin, Burkina Faso, Côte d'Ivoire, Guinea-Bissau, Mali, Niger, Senegal and Togo.
The Helpdesk bridges the divide between a policymaker sitting in Dakar, Niamey, or Ouagadougou and the evaluation findings relevant to whatever policy they're planning – which are often buried in dense, opaque academic reports. The fact that most evaluations are published in English is another obstacle, so WACIE works to overcome the language barrier by focusing on Francophone countries, making the Helpdesk's service even more essential.
For example, one of the Helpdesk's first Rapid Response Briefs addressed questions about modalities of providing assistance to help poor families avoid hunger, either via cash transfers or food distribution. We've also addressed questions about school lunches, the construction of school classrooms, Farmer Field Schools, and electrification programs.
To provide timely input to policymakers, they need answers to their questions at the right time – not an easy feat across eight different countries and numerous development institutions. WACIE's on-the-ground presence in Cotonou and IDinsight's presence in Senegal as well as our engagement with policymakers and regional decision-making bodies have been key to our ongoing outreach efforts.
Next, the process of answering a policymaker's question is not as simple as finding a research paper and writing a summary. Wherever possible, we base our response briefs around findings from high-quality systematic reviews, which synthesize results from all the relevant individual published studies on a topic. Even then, the job is not done. Findings are almost always context-specific, requiring a deeper dive into the specific evaluations which can shed light on factors which might enable or impede a program's implementation in the West African context.
Not all questions can be answered based on existing research. If there is no evidence base from which to write a Rapid Response Brief, the Helpdesk can connect interested policymakers to additional resources, such as remote, telephone-based data collection or rapid-cycle program evaluations.
We're proud of the work we've done in the short time since we launched the Helpdesk's pilot, and we're looking forward to making the transition out of our pilot phase. Our vision is that in a few years, we'll be citing not just the questions we've answered, but examples of evidence uptake and use in implementing successful development programming. In the long run, we aim to act as a one-stop shop for evidence needs in Francophone West Africa, offering technical assistance to governments, tailored capacity-strengthening events, evaluability assessments, rapid evaluations, and more.
For more details on the Helpdesk's offerings, the briefs we've already produced, and the way to submit a question, visit our WACIE Helpdesk page. Additional information about the overall WACIE program is available here. To learn more, join us on 1 June at the gLOCAL webinar where we showcase the helpdesk and what it has to offer.