Transparency, Reproducibility, and Ethics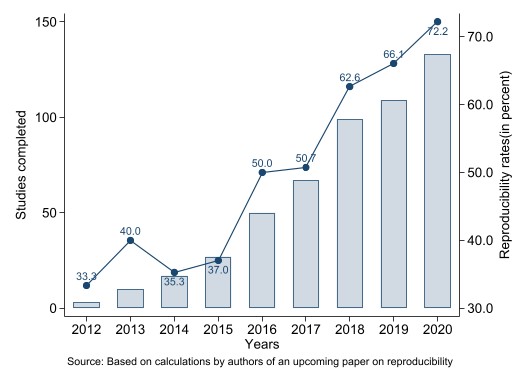 Since 3ie was founded, transparency, reproducibility, and ethics (TRE) have been core considerations in our work. We have developed and refined tools and best practices to ensure our studies apply technically rigorous methodologies, transparently share design and analysis decisions, yield computationally reproducible analysis, and incorporate foundational principles of research ethics into design, implementation, and dissemination. 3ie's Transparency, Reproducibility, and Ethics (TRE) Policy articulates this commitment to TRE best practices.
Our approach responds to the needs of researchers, decision-makers, research participants, and the broader communities where we work. Over several years, our staff has gained expertise in TRE practices, including assessing research protocols, pre-analysis plans, and data de-identification strategies, and independently conducting push button replication. 
Transparency
3ie produces research – whether in-house or through grants or contracts – that clearly and precisely documents the data and methods used in the analysis and the materials used to conduct the study. We have experienced and highly skilled staff ready to support the transparent production of evaluations, systematic reviews, and other knowledge products. More details about our work on research transparency are available here.
Reproducibility
One of the hallmarks of rigorous scientific research is the ability to reproduce study analysis. 3ie is a pioneer in the evaluation field for embracing Push-Button-Replication (PBR) as an essential component of research. We conduct PBR on each of our studies prior to publication, and we have published dozens of replication papers on our own research and others' studies. Our focus on PBR has yielded increasing rates of research reproducibility, as shown in the graph above. More details about our work on reproducibility are available here.
Ethics
Ethical questions arise throughout the life cycle of the evaluation process, including the protection of participants and their communities. Our practices to consider research ethics and independent ethical reviews help shape our research designs, data collection efforts, and the ways we publish our work.
Want to learn more about how 3ie's TRE expertise can support your organization's work? Drop us a line at tre@3ieimpact.org  with "TRE consultation" as the subject line for a personalized consultation with an Evaluation Specialist.